January 5, 2013 | Posted by Blair Warner | 2 Comments
2013 it here! Now what?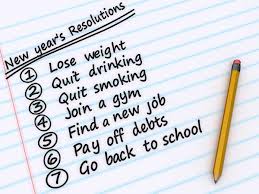 Well, it's that time again—time to start rolling out the New Year's resolutions. Some of us will vow to eat less, exercise more, live in the moment, be more grateful. You may even decide to bury the hatchet with the family member who makes you so crazy.
This time of year is a great time to start making—and keeping—financial and credit management resolutions, too. But sadly, like other type goals, we often make them year after year with sincere intent only to see them quickly fall by the wayside, as we revert to bad habits that we have vowed to break.
But what about the most financially successful people and their resolutions? Have you noticed how the most accomplished people just seem to identify important things and consistently get them done? Study successful people long enough and you start to pick up on the resolutions they seem to consistently make.
Here are ten for better credit:
#1 Spend some time making a general plan Successful people plan, period. There is no getting around it. You have probably heard of the old axiom "aim for nothing and you will hit your target 100% of the time". That holds true for resolutions and making plans to do something different this year that will improve your credit and debt standing. If you don't know what you want or where you are going, you will not make much progress. Get out paper and pen, a calendar, and be like Nike, just do it, and you will see how it flows. To prime the pump, start with asking yourself some questions, beginning with general, and getting more specific using the 5 W's, who, what, where, when, why, and lastly, how. Emphasize what and when questions. Go here for more on setting goals.
#2 Determine all possible major expenditures over the next year When scoping out your year to plan and budget think what possible major expenditures may be coming up. Will you need to replace an air conditioner this spring, or a major appliance? Are any kids starting – or graduating from – college, or getting married? Is your car on its last leg? The possibilities are endless and specific to your situation and family. Try to determine the exact month the expenditure will occur. If this is your year to improve your credit, though, don't purchase anything not necessary. Since these may require the use of credit, also consider how it will effect your credit score and debt load. Call us anytime for a free consultation.
#3 Create a budget As a type of sub-plan under your general plan is a budget, which focuses on your finances. There are two kinds of budgets, one that considers all your current expenses and income over a specific period of time, usually monthly, and one that includes a deliberate, aggressive plan of debt reduction, often called debt snowball-ing. The debt snowball is more than just paying the minimum payment. More on debt reduction below. If you have never made (and tried to keep) a personal/family budget, It's time. 2013 is the year! A whole blog could be written on how to create a budget, so for now here is a link to an example. The trick is to be realistic and as accurate as possible, and stick to it. Sometimes having an accountability partner helps.
#4 Make a "vow" to make all payments on time. This one should be self-explanatory. It is the cornerstone of good credit. There is no getting around that since 35% of FICO credit score is calculated from your payment history, you have to make yourself the promise to make your payments on time from here on out, and keep it. You will be amazed how much your score will go up if you do nothing else different in 2013 over 2012 except make your payments on time on your current debt each month. Try using your bank's auto-pay system online. Call your banker to find out how if you are not already set up with online banking.
#5 Create a debt reduction plan As mentioned, this is also called the debt snowball. It is a specific plan of reducing or getting out of debt that requires paying more than the minimum payment each month and the availability of extra cash to do so. The concept is that you start out small, and on specific accounts, that as paid off frees up money you were paying on those accounts to then apply toward remaining, and probably, higher balanced accounts. It may or may not be done in a year, depending on your debt load and it is most importantly applied to unsecured, credit card type debt. A future post will be written explaining it in more detail. Warning: Don't just jump into to randomly paying off debt. In order to improve your credit standing and increase your score as desired, it needs to be done strategically.
#6 Cut back on expenses One of the best ways to free up some money for debt reduction and financial goal setting is to cut expenses. Even when you think you can't get blood out of turnip look at your expenses and spending habits and see if you can find something to cut out or down on. Only you know what can be cut out or not, but remember, since 2013 is going to be your year to improve your credit and reduce or get out of debt, be ruthless with yourself. It may take some sacrifice. See Cut Utility Costs – Improve Your Credit for some tips as a place to start.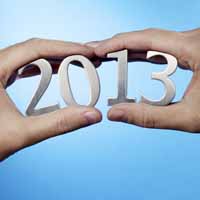 #7 Check your credit reports and scores As we have mentioned in our article Ten Commandments of a Good Credit Score, it is crucial to know what is on your credit reports and monitor it regularly. If you are looking for a place to pull them, try www.privacyguard.com. it only costs $1 the first 30 days, then if you want to monitor them monthly it is reasonably prices at $14.95/month. We suggest monitoring your credit during times of credit repair and rebuilding, but it is not necessary.
#8 Deal with any derogatory or erroneous items on your credit reports Once you have pulled your credit reports, go over them with a fine toothed comb, checking for any errors, accounts that don't belong to you, and making a note of all derogatory items. You also need to make sure you have plenty of good credit. Analyzing your credit reports can be confusing, call us, or go here for a free credit report evaluation by a credit professional at Upgrade My Credit.
#9 Refinance your home to 15-year mortgage with a lower interest rate (if applicable) This may not apply to everyone, but sometimes refinancing your home to a lower interest rate will save you significantly each month, freeing up more money for debt reduction and credit building, especially if you can reduce it to a 15-year mortgage. Here is a free mortgage calculator to compare. If you think this may apply to you, or are just want to inquire more about it, we have many mortgage lender partners we can introduce to you. Give us a call. 817-886-0302
#10 Finally, get a free credit consultation from Upgrade My Credit. We love to help people reach their financial goals that require good credit, and we have an even softer spot for folks who have poor credit and just don't know where to start to repair and re-build it.

This was a bit longer than most of our articles, but hopefully well worth the read. You will probably want to return here through out the year to refresh your determination and keep on track.

By Blair Warner – Sr. Credit Consultant, Upgrade My Credit
Category : blog, credit, credit repair, financial, goals, Planning, Uncategorized