October 28, 2013 | Posted by Blair Warner | No Comments
A Great Credit Score Can Save You A Lot of Money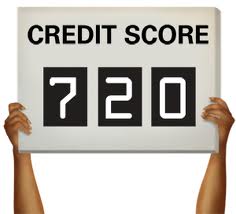 Have you ever considered how much Money You can Save by having a Great Credit Score?
If you currently have low credit scores, you may be wondering if you should pay money to improve your credit score. Well, I'll let you in on a little secret: if you ever get any kind of loan, you will make your money back many times over!
The reason is simple. Creditors of all kinds will charge you more – sometimes much more – to borrow money if you have a low or even a fair credit score.
Having a 720 credit score instead of a 640 score could save you thousands or even tens of thousands of dollars. Yes, it may seem unfair, but that's the reality of the lending world.
As someone who has 12 years of experience in the lending world as a loan officer and manager, and now the editor of MyMortgageInsider.com, I could tell you countless stories of how people have saved tons of money by having great credit.
Let's look at an example, taken straight from today's rate sheets: Someone with a 720 score could get a $200,000 loan with a principal and interest payment of $1013 per month and a rate of 4.5% (4.652% APR)*.
The same person with a 640 score would pay $1073 per month and have a 5.0% interest rate (5.155% APR)*. The borrower with a 640 score would pay an extra $60 per month and an additional $21,700 in interest over the life of the loan!
How does that fee for credit repair services look now? Pretty low?
The bottom line is this: lenders want to see that you are a low-risk borrower. And it all comes down to the three little numbers on your credit report. The higher those numbers, the less you will pay for credit.
And a home mortgage is just scratching the surface when it comes to the money you'll save by having a good credit score. Some other things you'll save money on are:
Car insurance
Homeowner's insurance
Renter's insurance
Auto loans
Credit cards
Heck, many employers look at your credit reports when you're applying for a job these days, and some may even look at your credit scores! What if your bad credit cost you a great job? Reference NYTimes article on this subject.
When you add up all the money you could save and make over your lifetime by having a great credit score, the dollar amount could easily be six figures or more. This is no exaggeration.
Yes, it may seem like a lot of work to build, improve, and maintain your credit score. It takes a lot of discipline. But it's that discipline that lenders are looking for. It proves you are a worthy candidate and will pay back the loan according to the terms you agreed to.
So if you can get help from an expert to improve your credit score, take that opportunity despite the time, cost and effort. You will get huge returns on your investment – more than you probably ever expected.
*Payment does not include taxes, insurance, or HOA dues. Rates are as of 9/10/13. Purchase price $250,000, loan amount $200,000, property in WA. Scenarios are 30 year fixed conventional loans.
by Tim Lucas – MyMortgageInsider.com
Tim is the Editor and Chief Contributor to the website MyMortgageInsider.com. He has been in the mortgage industry for more than 12 years as a loan originator and mortgage processor. He's answered just about every kind of mortgage question over the years and has tons of experience to draw from. Please Send Mortgage Questions to: tim@mymortgageinsider.com
Has this been helpful? Please feel free to comment or share on social media. We like helping people.


Tweetable Takeaways Include:
Having a 720 credit score instead of a 640 score could save you thousands or even tens of thousands of dollars. (Click to tweet)
Lenders want to see that you are a low-risk borrower. And it all comes down to the three little numbers on your credit report. (Click to tweet)
Most employers look at your credit reports when you're applying for a job these days! (Click to tweet)

Blair Warner – UpgradeMyCredit.com Editor & Chief Credit Consultant
Tags: credit, credit repair, mortgage
Category : credit, credit reports, FICO Score, Mortgage, real estate